v0501-281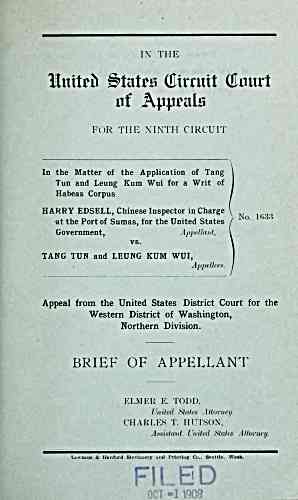 IN THE
llnitpb ^tatfa (Etrrutt (Enitrt
of Appeals
FOR THE NINTH CIRCUIT
In the Matter of the Application of Tang
Tun and Leung Kum Wui for a Writ of
Habeas Corpus
HARRY EDSELL, Chinese Inspector in Charge
at the Port of Sumas, for the United States
Government, AppelUuit,
vs.
TANG TUN and LEUNG KUM WUI,
Appellees.
, No. 1J33
Appeal from the United States District Court for the
Western District of Washington,
Northern Division.
BRIEF OF APPELLANT
ELMER E. TODD,
United tStates Attorney.
CHARLES t. HUTSON,
Amslmd United States Attorney.
Lowman & Hanford Stntlo'.iery and Printing Co.. Seattle. Wash.
FILED
OCT -1 1908
---
archive.org Volume Name: govuscourtsca9briefs0501
Volume: http://archive.org/stream/govuscourtsca9briefs0501
Document Link: http://archive.org/stream/govuscourtsca9briefs0501#page/n280/mode/1up
Top Keywords (auto-generated):
tun, tang, transcript, seattle, district, quong, paper, labor, collector, chin, commerce, chinese, born, saunders, port
Top Key Phrases (auto-generated):
tang tun, chin quong, leung kum, kum wui, native born, quong lee, port townsend, born citizen, wa chong, trans cript, habeas corpus, chinese exclusion, tabulated list, sev eral, identification paper
Document Status: UGLY