v0501-331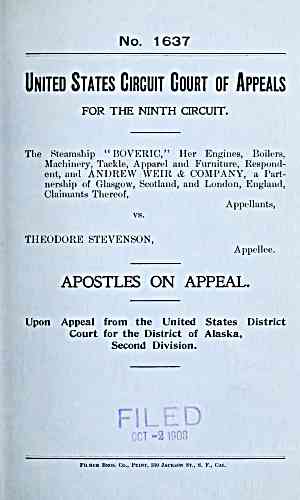 No. 1637
United States Circuit Court of Appeals
FOR THE NINTH CIRCUIT,
The Steamship ''BOVERIC," Her Engines, Boilers,
Machinery, Tackle, Apparel and Furniture, Respond-
ent, and ANDREW WEIR & COMPANY, a Part-
nership of Glasgow, Scotland, and London, England,
Claimants Thereof,
Appellants,
vs.
THEODORE STEVENSON,
Appellee.
APOSTLES ON APPEAL.
Upon Appeal from the United States District
Court for the District of Alaska,
Second Division.
Fl I h
FiLMER Bros. Co., Print, 330 Jackson St., S. F., Cal.
---
archive.org Volume Name: govuscourtsca9briefs0501
Volume: http://archive.org/stream/govuscourtsca9briefs0501
Document Link: http://archive.org/stream/govuscourtsca9briefs0501#page/n330/mode/1up
Top Keywords (auto-generated):
stevenson, steamship, boveric, hatch, theodore, district, ship, hook, alaska, winch, coal, deposition, sling, scale, scales
Top Key Phrases (auto-generated):
steamship boveric, theodore stevenson., theodore stevenson, gin block, tackle apparel, hatch tender, engines boilers, net sling, machinery tackle, boilers machinery, andrew weir, winch drivers, tween decks, john rustgard, freight hook
Document Status: UGLY