v0501-695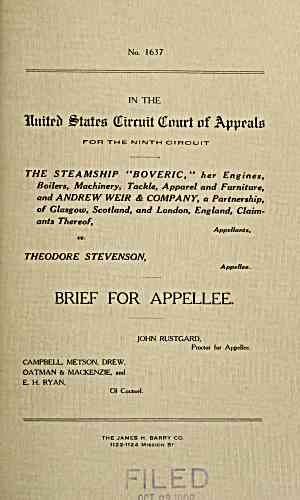 No. 1637
IN THE
Hnttrft ^tatH Oltrrutt Qlnurt nf Appala
FOR the: ninth ciRcui-r
THE STEAMSHIP "BOVERIC," her Engines,
Boilers, Machinery, Tackle, Apparel and Furniture,
and ANDREW WEIR & COMPANY, a Partnership,
of Glasgow, Scotland, and London, England, Claim-
ants Thereof,
THEODORE STEVENSON,
Appellants,
Appellee.
BRIEF FOR APPELLEE.
JOHN RUSTGARD,
Proctor for Appellee.
CAMPBELL. METSON, DREW.
OATMAN & MACKENZIE, and
RYAN.
Of Counsel.
THE JAMES H. BARRY CO.
1122-1124 MISSION St.
(r
---
archive.org Volume Name: govuscourtsca9briefs0501
Volume: http://archive.org/stream/govuscourtsca9briefs0501
Document Link: http://archive.org/stream/govuscourtsca9briefs0501#page/n694/mode/1up
Top Keywords (auto-generated):
ship, winchmen, vessel, work, winch, master, servant, charter, cargo, winchman, sling, coal, charterer, winches, stevedores
Top Key Phrases (auto-generated):
hatch tender, fellow servant, fellow servants, common employment, winch drivers, un loading, steam winches, night work, coast lighterage, cargo fall, boss scooper, winch drivers., steve dores, steve dore, steam power
Document Status: UGLY