v0520-7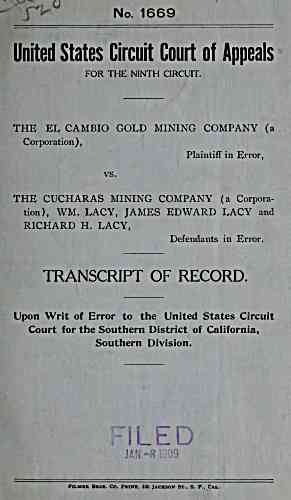 r^ No. 1669
,J
United States Circuit Court of Appeals
FOR THE NINTH CIRCUIT.
THE EL CAMBIO GOLD MINING COMPANY (a
Corporation),
Plaintiff in Error,
VS.
THE CUCHARAS MINING COMPANY (a Corpora-
tion), WM. LACY, JAMES EDWARD LACY and
RICHARD H. LACY,
Defendants in Error.
TRANSCRIPT OF RECORD.
Upon Writ of Error to the United States Circuit
Court for the Southern District of California,
Southern Division.
ILED
FiLMBR Bros. Co. Print, 330 Jackson St., S. P., Cal.
---
archive.org Volume Name: govuscourtsca9briefs0520
Volume: http://archive.org/stream/govuscourtsca9briefs0520
Document Link: http://archive.org/stream/govuscourtsca9briefs0520#page/n6/mode/1up
Top Keywords (auto-generated):
lacy, el, mining, gold, min, boat, cucharas, dargin, los, vessel, cambio, durrell, california, angeles, corporation
Top Key Phrases (auto-generated):
el cambio, cambio gold, gold mining, cucharas mining, los angeles, gold min., el camhio, camhio gold, cucharas min., mexican flag, edward lacy, southern district, james edward, angeles california, lacy james
Document Status: UGLY