v0528-401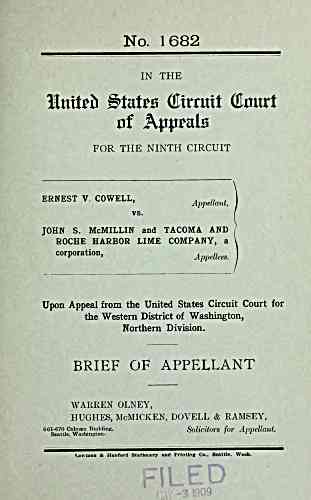 No. 1682
IN THE
Intteo iat0 GItrrmi (tanxt
of Appeals
FOR THE NINTH CIRCUIT
ERNEST V COWELL, ^^
VS.
JOHN S. McMILLIN and TACOMA AND
ROCHE HARBOR LIME COMPANY, a
corporation, Appellees.
Upon Appeal from the United States Circuit Court for
the Western District of Washington,
Northern Division.
BRIEF OF APPELLANT
WARREN OLNEY,
HUGHES, McMICKEN, DOVELL & RAMSEY,
661-670 Colnian Building, Solicitors for Appellant.
Seattle, Washington. ' L L
lowman & Hanford Statiouery and Printing Co., Seattle, Wash.
hlLEl
09
---
archive.org Volume Name: govuscourtsca9briefs0528
Volume: http://archive.org/stream/govuscourtsca9briefs0528
Document Link: http://archive.org/stream/govuscourtsca9briefs0528#page/n400/mode/1up
Top Keywords (auto-generated):
mcmillin, machine, corporation, printed, trustees, barrel, stock, mill, business, contract, stockholders, meeting, barrels, salary, stave
Top Key Phrases (auto-generated):
stave mill, barrel machine, staveless barrel, roche harbor, mill plant, patent machine, annual meeting, minority stockholders, mc millin, purchase price, waterman chapman, personal interests, pacific national, national bank, henry cowell
Document Status: UGLY