v0528-537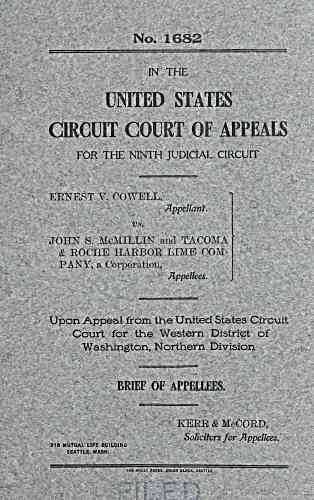 No. 1682
IN THE
UNITED STATES
CIRCUIT COURT OE APPEALS
FOR THE NINTH JUDICIAL CIRCUIT
ERNEST V. COWELL, .
Appellant.
vs.
JOHN S. McMILLIN and TACOMA
& ROCHE HARBOR LIME COM-
. PANY, a Corporation,
Appellees.
Upon Appeal from the United States Circuit
Court for the Western District of
Washington, Northern Division
BRIEF OP APPELIEES.
318 MUTUAL LIFE BUILDING
SEATTLE, WASH.
KERR&McCORD,
Solicitors for Appellees.
THE HOLLY PRESS, .UNION BLOCK t SEATTLE
---
archive.org Volume Name: govuscourtsca9briefs0528
Volume: http://archive.org/stream/govuscourtsca9briefs0528
Document Link: http://archive.org/stream/govuscourtsca9briefs0528#page/n536/mode/1up
Top Keywords (auto-generated):
mcmillin, machine, stock, barrel, contract, barrels, complainant, business, trustees, cowell, lime, corporation, rec, mill, respondent
Top Key Phrases (auto-generated):
stave mill, barrel machine, roche harbor, mc millin, staveless barrel, respondent mcmillin, ma chine, elder cowell, barrel contract, san francisco, patent machine, pacific national, national bank, complain ant, annual meeting
Document Status: UGLY