v0538-569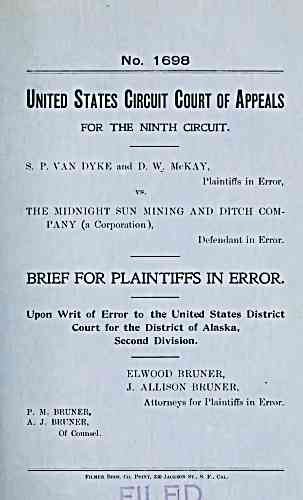 No. 1698
United States Circuit Court of Appeals
FOR THE NINTH CIRCUIT*
VAN DYKE and D. W. McKAY,
Ilaintiffs in Error,
vs.
THE jMIDNIGHT SUN MINING AND DITCH COM-
PANY (a Corporation),
Defendant in Error.
BRIEF FOR PLAINTIFFS IN ERROR.
Upon Writ of Error to the United States District
Court for the District of Alaska,
Second Division.
BRUNER,

BRUNER,
Of Counsel,
ELWOOD BRUNER,
ALLISON BRUNER,
Attorneys for Plaintiffs in Prror.
Fii.MER Bros. Co. Print, 330 Jackson St., S. F., Cal.
I RH
---
archive.org Volume Name: govuscourtsca9briefs0538
Volume: http://archive.org/stream/govuscourtsca9briefs0538
Document Link: http://archive.org/stream/govuscourtsca9briefs0538#page/n568/mode/1up
Top Keywords (auto-generated):
creek, hurrah, water, claims, ditch, waters, trans, right, public, property, nos, mining, work, rights, private
Top Key Phrases (auto-generated):
hurrah creek, claims nos., mining claims, hurrah creek., placer claims, placer mining, van dyke, solomon river, private property, hur rah, eminent domain, ditch across, defend ant, trespass notices, sun mining
Document Status: UGLY