v0540-7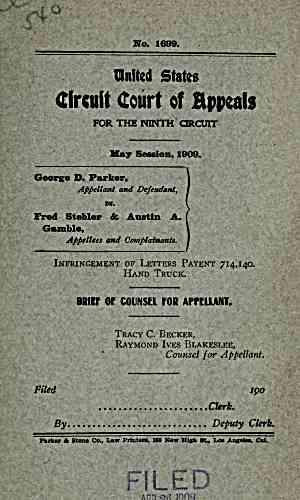 No. 1699.
mnfted States
Circuit Court of Appeals
FOR THE NINTH CIRCUIT
May Session, 1909,
George P. Parker,
Appellant and Defendant,
vs.
Fred Stebler &, Austin A.
Gamble,
Appellees and Complainants.
Infringemnt of Letters Patent 714,140.
Hand Truck.
BRIIF Of COUNSEL FOR APPCLLANf.
Tracy C. Becker,
Raymond Ives Beakeslee,
Counsel for Appellant.
Filed igo
...aerk.
By Deputy Clerk,
Fttricer & Stone Co., Law Frlntera, 288 Nw High St.. Zxm Angeles, CaJ.
---
archive.org Volume Name: govuscourtsca9briefs0540
Volume: http://archive.org/stream/govuscourtsca9briefs0540
Document Link: http://archive.org/stream/govuscourtsca9briefs0540#page/n6/mode/1up
Top Keywords (auto-generated):
truck, ruggles, patent, bryan, stebler, clamping, foot, claims, members, clamp, means, lever, invention, redlands, frame
Top Key Phrases (auto-generated):
ruggles truck, foot lever, bryan patent, clamp members, clamping members, packing house, clamp truck, load clamping, foot operated, truck frame, ruggles testifies, orange growers, foot controlled, clamping arms, rug gles
Document Status: UGLY