v0565-7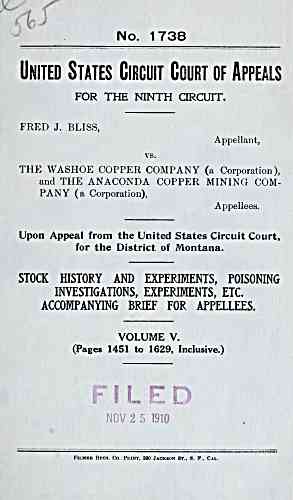 . No. 1738
United States Circuit Court of Appeals
FOR THE NINTH CIRCUIT-
FRED J. BLISS,
Appellant,
vs.
THE WASHOE COPPER COMPANY (a Corporation),
and THE ANACONDA COPPER MINING COM-
PANY (a Corporation),
Appellees.
Upon Appeal from the United States Circuit Court,
for the District of Montana.
STOCK HISTORY AND EXPERIMENTS, POISONING
INVESTIGATIONS, EXPERIMENTS, ETC.
ACCOMPANYING BRIEF FOR APPELLEES.
VOLUME V.
(Pages 1451 to 1629, Inclusive.)
NOV 2 5 1910
FiLMRR Bkos. Co. Pr.iNT, 380 Jackson St.. 3. F.. Cal.
---
archive.org Volume Name: govuscourtsca9briefs0565
Volume: http://archive.org/stream/govuscourtsca9briefs0565
Document Link: http://archive.org/stream/govuscourtsca9briefs0565#page/n6/mode/1up
Top Keywords (auto-generated):
1906, animal, normal, june, arsenic, stomach, animals, grains, horse, ulcer, membrane, horses, nostril, small, mucous
Top Key Phrases (auto-generated):
washoe copper, mucous membrane, flue dust, sore noses, post mortem, grains daily, right nostril, arsenical poisoning, sore nose, deer lodge, theobald smith, poison experiment, fourth stomach, arsenical poisoning., mem brane
Document Status: UGLY