v0570-381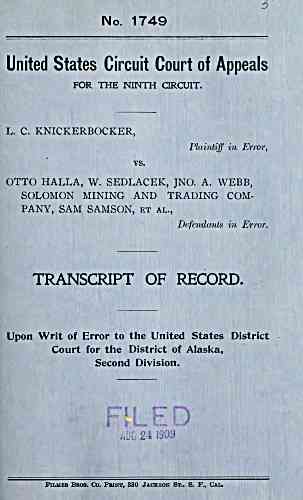 No. 1749
United States Circuit Court of Appeals
FOR THE NINTH QRCUIT.
Iv. C. KNICKERBOCKER,
Plaintiff in Error,
vs.
OTTO HALLA, W. SEDLACEK, JNO. A. WEBB,
SOLOMON MINING AND TRADING COM-
PANY, SAM SAMSON, et al..
Defendants in Error.
TRANSCRIPT OF RECORD.
Upon Writ of Error to the United States District
Court for the District of Alaska,
Second Division.
r- 1
AUG 24 IS09
FiLMEB Beos, Co. Pmnt, 330 Jackson St.. S. F.. Cai*
---
archive.org Volume Name: govuscourtsca9briefs0570
Volume: http://archive.org/stream/govuscourtsca9briefs0570
Document Link: http://archive.org/stream/govuscourtsca9briefs0570#page/n380/mode/1up
Top Keywords (auto-generated):
halla, webb, work, knickerbocker, tract, otto, interest, district, alaska, mining, 1902, lapiana, nome, john, owner
Top Key Phrases (auto-generated):
otto halla, halla tract, assessment work, sam samson, thence 660, sixteenth interest, instruction requested, solomon mining, annual labor, instruction correctly, halla tract., fanny tract, knicker bocker, nome alaska, allison bruner
Document Status: UGLY