v0571-695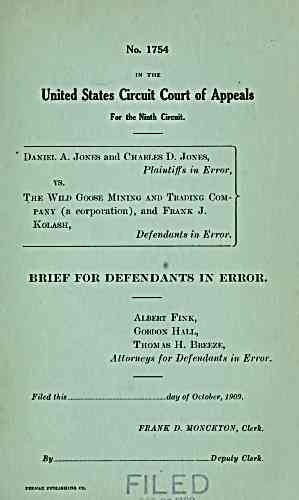 No. 1754
IN THE
United States Circuit Court of Appeals
For the Ninth Circuit.
' Daniel A. Jones and Charles D. Jones,
Plaintiffs in Error,
vs.
The Wn.D Goose Mining and Trading Com-
pany (a corporation), and Frank J.
KOLASH,
Defendants in Error.
BRIEF FOR DEFENDANTS IN ERROR.
Albert Fink,
Gordon Hall,
Thomas H. Breeze,
Attorneys for Defendants in Error
Filed this day of October, 1909.
FRANK D. MONCKTON, Clerk.
By Deputy Clerk.
PERNAU PUHLISHINO CO.
---
archive.org Volume Name: govuscourtsca9briefs0571
Volume: http://archive.org/stream/govuscourtsca9briefs0571
Document Link: http://archive.org/stream/govuscourtsca9briefs0571#page/n694/mode/1up
Top Keywords (auto-generated):
location, excess, locator, ground, void, senior, right, end, locate, jones, voidable, cast, stake, initial, discovery
Top Key Phrases (auto-generated):
senior locator, initial stake, junior locator, senior locators, junior location, excess location, subsisting location, pos session, goose mining, excess ground, actual possession, wild goose, valid location, physical possession, northwest corner
Document Status: UGLY