v0573-287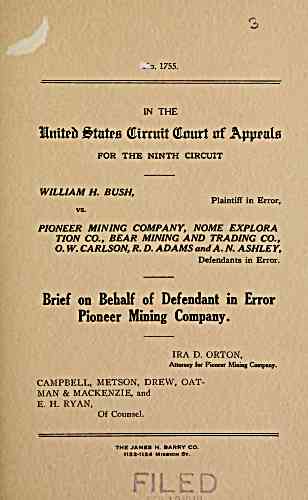 .:3. 1755.
IN THE
ISinitth BtnttB CUtrrmt (Eonxt of Appeals
FOR THE NINTH CIRCUIT
WILLIAM H. BUSH,
Plaintiff in Error,
vs.
PIONEER MINING COMPANY, NOME EXPLORA
TION CO,, BEAR MINING AND TRADING CO.,
CARLSON, R. D. ADAMS and A, N. ASHLEY,
Defendants in Error.
Brief on Behalf of Defendant in Error
Pioneer Mining Company.
IRA D. ORTON,
Attorney for Pioneer Mining Company.
CAMPBELL, METSON, DREW, OAT-
MAN & MACKENZIE, and
RYAN,
Of Counsel,
THE JAMES H. BARRY CO.
1122-1124 MISSION ST.
, 'ii la ; .'^. n
---
archive.org Volume Name: govuscourtsca9briefs0573
Volume: http://archive.org/stream/govuscourtsca9briefs0573
Document Link: http://archive.org/stream/govuscourtsca9briefs0573#page/n286/mode/1up
Top Keywords (auto-generated):
mining, pioneer, nome, exploration, possession, bear, interest, pany, mortgage, money, latter, cub, carlson, ashley, adams
Top Key Phrases (auto-generated):
pioneer mining, nome exploration, bear mining, bear cub, pos session, november 1903, metson drew, drew oat, distinct corporations., campbell metson, ttf kppmlb, thereon executed, tatb hivtrnt, sus tained, sus tain
Document Status: UGLY