v0575-321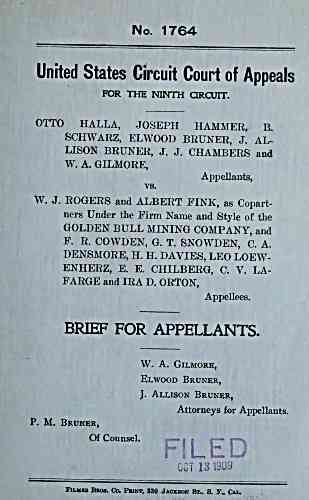 No. 1764
United States Circuit Court of Appeals
FOR THE NINTH ORCUIT.
OTTO HALLA, JOSEPH HAMMER, B.
SCHWARZ, ELWOOD BRUNER, J. AL~
LISON BRUNER, J. J. CHAMBERS and
W. A. GILMORE,
Appellants,
vs.
W. J. ROGERS and ALBERT PINK, as Copart-
ners Under the Firm Name and Style of the
GOLDEN BULL MINING COMPANY, and
F. R. COWDEN, G. T. SNOWDEN, C. A.
BENSMORE, H. H. DAVIES, LEO LOEW-
ENHERZ, E. E. CHILBERG, C. V. LA-
EARGE and IRA D. ORTON,
Appellees.
BRIEF FOR APPELLANTS.
W. A. GiLMORE,
Klwood Bruner,
J. Allison Bruner,
Attorneys for Appellants.
P. M. Bruner,
Of Counsel. -^
COT 131
FiLMEB Bros. Co. Peint, 330 Jackson St.. S. F Cau
---
archive.org Volume Name: govuscourtsca9briefs0575
Volume: http://archive.org/stream/govuscourtsca9briefs0575
Document Link: http://archive.org/stream/govuscourtsca9briefs0575#page/n320/mode/1up
Top Keywords (auto-generated):
title, injunction, premises, lease, right, 1909, trans, mining, july, mines, golden, bull, bruner, possession, mine
Top Key Phrases (auto-generated):
golden bull, bull mining, placer mine, mining remedies, june 1909, july 1909., injunction pendente, whatsoever interfering, right title, quiet title, pendente lite., pendente lite, loew enherz, leo loew, leasehold estate
Document Status: UGLY