v0575-333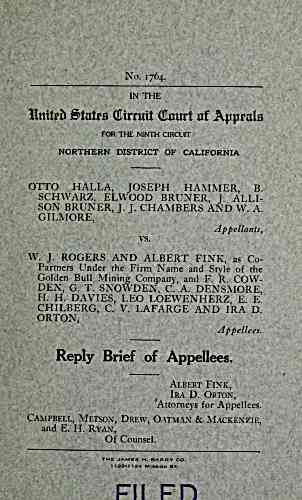 No. 1764.
IN THE
Hnitin States (Hxxmxt Qlourt of Appeals
FOR THE NINTH CIRCUIT
NORTHERN DISTRICT OF CALIFORNIA
OTTO HALLA, JOSEPH HAMMER, B.
SCHWARZ, ELWOOD BRUNER, J. ALLI-
SON BRUNER, J. J. CHAMBERS AND W. A.
GILMORE,
Appellants,
VS.
W. J. ROGERS AND ALBERT FINK, as Co-
Partners Under the Firm Name and Style of the
Golden Bull Mining Company, and F. R. COW-
DEN, G. T. SNOWDEN, C. A. DENSMORE,
H. H. DAVIES, LEO LOEWENHERZ E. E.
CHILBERG, C. V. LAFARGE AND IRA D.
ORTON,
Appellees.
Reply Brief of Appellees.
Albert Fink,
Ir. D. Orton,
Attorney's for Appellees.
Campbell, Metson, Drew, Oatmax & Mackenzie,
and E. H. Ryan,
Of Counsel.
THE JAMES M. BARRV CO.
1 122-1 124 Mission St.
FII FH
---
archive.org Volume Name: govuscourtsca9briefs0575
Volume: http://archive.org/stream/govuscourtsca9briefs0575
Document Link: http://archive.org/stream/govuscourtsca9briefs0575#page/n332/mode/1up
Top Keywords (auto-generated):
lease, halla, chambers, injunction, ground, lessees, hammer, interest, golden, bull, schwarz, lessors, leasehold, mining, possession
Top Key Phrases (auto-generated):
golden bull, halla hammer, leasehold interest, bull mining, bon voyage, pendente lite, injunction pendente, elwood bruner, quiet enjoyment, leasehold estate, albert fink, wrongfully obtained, supersedeas bond, mining lease, june 1909,
Document Status: UGLY