v0575-453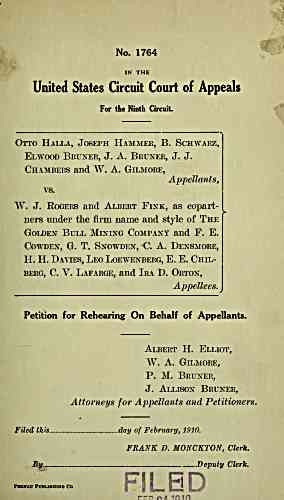 No. 1764
IN THE
United States Circuit Court of Appeals
For the Ninth Circuit.
Otto Halla, Joseph Hammer, B. Schwarz,
Elwood Brunee, J. A. Bruner, J. J.
Chambers and W. A. Gilmore,
, Appellants,
vs.
W. J. Rogers and Albert Fink, as copart-
ners under the firm name and style of The
Golden Bull Mixing Company and F. E.
CowDEN, G. T. Snowden, C. a. Densmore,
H. H. Davies, Leo Loewenberg, E. E. Chil-
BERG, C. V. Lafaege, and Ira D. Orton,
Appellees.
Petition for Rehearing On Behalf of Appellants.
Albert H. Elliot,
W. A. Gilmore,
P. M. Bruner,
J. Allison Bruner,
Attorneys for Appellants and Petitioners.
Filed this..
By..
..day of February, 1910.
FRANK D. MONCKTON, Clerk.
D eputy Clerk.
PmUItAV PVBLIBHINO CO
rrn fi4 min
---
archive.org Volume Name: govuscourtsca9briefs0575
Volume: http://archive.org/stream/govuscourtsca9briefs0575
Document Link: http://archive.org/stream/govuscourtsca9briefs0575#page/n452/mode/1up
Top Keywords (auto-generated):
lease, contract, land, equity, coal, right, period, ore, lessee, rep, minerals, bar, remove, iron, mineral
Top Key Phrases (auto-generated):
english annotated, standing timber, pennsylvania doctrine, strong arm, minor premise, min erals, iron ore, vol ume, swamp lands, pennsyl vania, major premise, iron min., american english, weather conditions, vania doctrine
Document Status: UGLY