v0593-379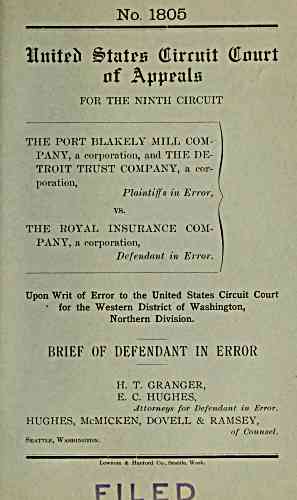 No. 1805
MnxUh tat?0 Oltrrmt fliflurt
0f Appeals
FOR THE NINTH CIRCUIT
THE PORT BLAKELY MILL COM-
PANY, a corporation, and THE DE-
TROIT TRUST COMPANY, a cor-
poration,
Plaintiffs in Error,
vs.
THE ROYAL INSURANCE COM-
PANY, a corporation.
Defendant in Error.
Upon Writ of Error to the United States Circuit Court
for the Western District of Washington,
Northern Division.
BRIEF OF DEFENDANT IN ERROR
GRANGER,

HUGHES.
Attorneys for Defendant in Error.
HUGHES, McMICKEN, DOVELL & RAMSEY,
of Counsel.
Seattle, Washington.
Lowman & Hanford Co., Seattle, Wash.
FILFD
---
archive.org Volume Name: govuscourtsca9briefs0593
Volume: http://archive.org/stream/govuscourtsca9briefs0593
Document Link: http://archive.org/stream/govuscourtsca9briefs0593#page/n378/mode/1up
Top Keywords (auto-generated):
mill, sprinkler, warranty, policy, valve, work, system, lath, insurance, contract, pipe, fire, april, diligence, water
Top Key Phrases (auto-generated):
lath mill, sprinkler system, port blakely, dry pipe, blakely mill, pipe valve, automatic sprinkler, sprinkler equipment, kentucky vermillion, gate valve, lath mill., air valve, war ranty, additions alterations, april 1907,
Document Status: UGLY