v0597-179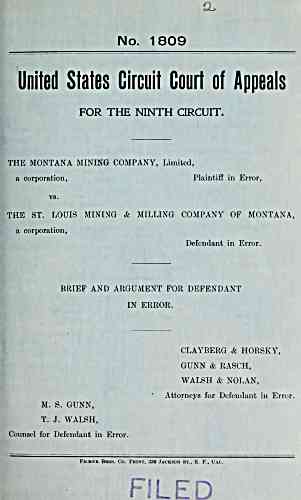 CL
No. 1809
United States Circuit Court of Appeals
FOR THE NINTH CIRCUIT.
THE MONTANA MINING COMPANY, Limited,
a corporation. Plaintiff in Error,
vs.
THE ST. LOUIS MIKING & MILLING COMPANY OP MONTANA,
a corporation,
Defendant in Error.
BRIEF AND ARGUMENT FOR DEFENDANT
IN ERROR.
CLAYBERG & HORSKY,
GUNN & RASCH,
WALSH & NOLAN,
Attorneys for Defendant in Error.
GUNN,

WALSH,
Counsel for Defendant in Error
Fii.MKR Bros. Co. Tiunt, 330 Jackson St.. S. F.. Gal,
FILED
---
archive.org Volume Name: govuscourtsca9briefs0597
Volume: http://archive.org/stream/govuscourtsca9briefs0597
Document Link: http://archive.org/stream/govuscourtsca9briefs0597#page/n178/mode/1up
Top Keywords (auto-generated):
st, louis, ground, montana, compromise, mining, hour, deed, vein, supreme, bond, min, ore, limited, specific
Top Key Phrases (auto-generated):
compromise ground, montana mining, louis min., specific performance, foot plane, compromise ground., 133 foot, louis min, lode mining, hour lode, promise ground, previous decisions, personal property, foot plane., st louis
Document Status: UGLY