v0597-542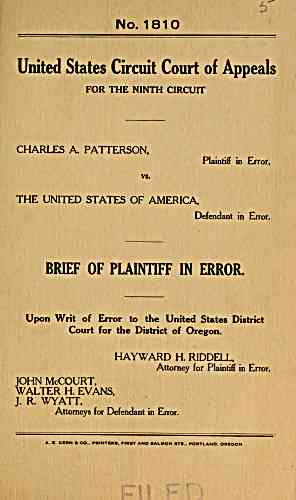 No. 1810
United States Circuit Court of Appeals
FOR THE NINTH CIRCUIT
CHARLES A. PATTERSON.
Plaintiff in Error,
vs.
THE UNITED STATES OF AMERICA.
Defendant in Error.
BRIEF OF PLAINTIFF IN ERROR.
Upon Writ of Error to the United States District
Court for the District of Oregon.
HAYWARD H. RIDDELL,
Attorney for Plaintiff in Error.
JOHN McCOURT,
WALTER H. EVANS,
WYATT,
Attorneys for Defendant in Error.
KERN & CO.. PRINTERS, FIRST AND SALMON STS.. PORTLAND, OREGON
' r
---
archive.org Volume Name: govuscourtsca9briefs0597
Volume: http://archive.org/stream/govuscourtsca9briefs0597
Document Link: http://archive.org/stream/govuscourtsca9briefs0597#page/n541/mode/1up
Top Keywords (auto-generated):
oath, patent, patterson, van, emon, inventor, buckle, sole, statute, perjury, invention, application, power, idea, larsen
Top Key Phrases (auto-generated):
van emon, sole inventor, binding face, word sole, notary public, clamping plate, patter son, administer oaths, patent office, notaries public, forward edge, revised statutes, land office, inven tor, evi dence
Document Status: UGLY