v0601-571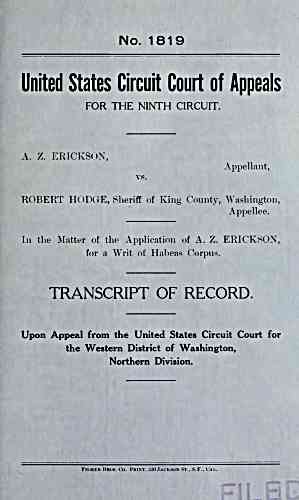 No. 1819
United States Circuit Court of Appeals
FOR THE NINTH CIRCUIT.
ERTCKSOX,
Appellant,
"ROBERT HODGE, Sheriff of King County, Washington,
Appellee.
In the Matter of the Application of A. Z. ERICKSOX,
for a Writ of Habeas Corpus.
TRANSCRIPT OF RECORD.
Upon Appeal from the United States Circuit Court for
the Western District of Washington,
Northern Division.
Fii.MER Bros. Co. Print. :?30 .Fackson St.. S.F.. C'al.
---
archive.org Volume Name: govuscourtsca9briefs0601
Volume: http://archive.org/stream/govuscourtsca9briefs0601
Document Link: http://archive.org/stream/govuscourtsca9briefs0601#page/n570/mode/1up
Top Keywords (auto-generated):
washington, petitioner, erickson, district, western, 1909, habeas, hodge, corpus, king, county, robert, november, northern, sheriff
Top Key Phrases (auto-generated):
western district, king county, washington northern, county washington, habeas corpus., habeas corpus, hodge sheriff, robert hodge, reeves ayres, erick son, di vision., northern di, covington deputy., robert hodge., welch crotty
Document Status: UGLY