v0604-365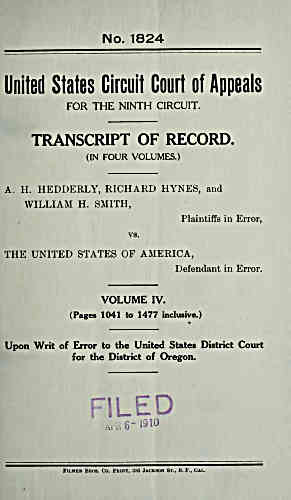 No. 1824
United States Circuit Court of Appeals
FOR THE NINTH CIRCUIT.
TRANSCRIPT OF RECORD,
(IN FOUR VOLUMES.)
HEDDERLY, RICHARD HYNES, and
WILLIAM H. SMITH,
Plaintiffs in Error,
vs.
THE UNITED STATES OF AMERICA,
Defendant in Error.
VOLUME IV.
(Pages 1041 to 1477 inclusive.)
Upon Writ of Error to the United States District Court
for the District of Oregon.
FILED
FiLMER Bros. Co. Print, 330 Jackson St., S. F., Cal.
---
archive.org Volume Name: govuscourtsca9briefs0604
Volume: http://archive.org/stream/govuscourtsca9briefs0604
Document Link: http://archive.org/stream/govuscourtsca9briefs0604#page/n364/mode/1up
Top Keywords (auto-generated):
hedderly, davis, commissioner, lawler, bank, land, deed, lands, furniture, cross, lumber, pacific, oregon, stock, sheldon
Top Key Phrases (auto-generated):
pacific furniture, broadway bank, los angeles, curry county, furniture lumber, port orford, bond issue, financial manager, relevant cross, bank trust, scott sheldon, evi dence, timber lands, richard hynes., national bank
Document Status: UGLY