v0607-323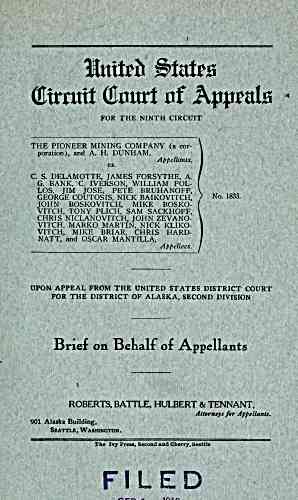 Ctrrutt fflnwrt of Kppmln
FOR THE NINTH CIRCUIT
THE PIONEER MINING COMPANY (a cor-
poration), and A. H. DUNHAM,
Appellants,
vs.
DELAMOTTE, JAMES FORSYTHE, A.

BANK, C. IVERSON, WILLIAM POL-
LOS, JIM JOSE, PETE BRUHANOFF,
GEORGE COUTOSIS, NICK BAIKOVITCH, / No. 1833.
JOHN BOSKOVITCH, MIKE BOSKO-
VITCH, TONY PLICH, SAM SACKHOFF,
CHRIS NICLANOVITCH, JOHN ZEVANO-
VITCH, MARKO MARTIN, NICK KLIKO-
VITCH, MIKE BRIAR, CHRIS HARD-
NATT, and OSCAR MANTILLA,
Appellees.
UPON APPEAL FROM THE UNITED STATES DISTRICT COURT
FOR THE DISTRICT OF ALASKA, SECOND DIVISION
Brief on BeLalf of Appellants
ROBERTS. BATTLE, HULBERT & TENNANT.
Attorneys for Appellants.
901 Alaska Building,
Seattle, Washington.
The Ivy Press, Second and Cherry, Seattle
FILE
---
archive.org Volume Name: govuscourtsca9briefs0607
Volume: http://archive.org/stream/govuscourtsca9briefs0607
Document Link: http://archive.org/stream/govuscourtsca9briefs0607#page/n322/mode/1up
Top Keywords (auto-generated):
work, lien, mining, labor, owner, mine, building, interest, section, marsh, property, performed, land, improvement, gold
Top Key Phrases (auto-generated):
gold belt, construction alteration, pioneer mining, marsh george, george marsh, belt placer, harry ashland, equal protection, placer mining, northern mining, non appealing, mine lode, materials furnished, defend ants, civil code
Document Status: UGLY