v0608-219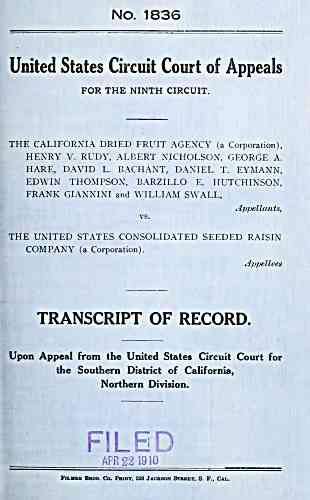 No. 1836
United States Circuit Court of Appeals
FOR THE NINTH CIRCUIT.
THE CALIFORNIA DRIED FRUIT AGENCY (a Corporation),
HENRY V. RUDY, ALBERT NICHOLSON, GEORGE A.
HARE, DAVID L. BACHANT, DANIEL T. EYMANN,
EDWIN THOMPSON, BARZILLO E. HUTCHINSON,
FRANK GIANNINI and WILLIAM SWALL,
Appellants,
vs.
THE UNITED STATES CONSOLIDATED SEEDED RAISIN
COMPANY (a Corporation).
Appellees
TRANSCRIPT OF RECORD.
Upon Appeal from the United States Circuit Court for
the Southern District of California,
Northern Division.
FILE
APR S2 1910
FiLMBR BEOS. Co. Print, 330 Jackson Street, S. F., Cal.
---
archive.org Volume Name: govuscourtsca9briefs0608
Volume: http://archive.org/stream/govuscourtsca9briefs0608
Document Link: http://archive.org/stream/govuscourtsca9briefs0608#page/n218/mode/1up
Top Keywords (auto-generated):
california, raisin, seeded, fruit, dried, agency, patent, complainant, machines, seeding, 1909, pettit, district, machine, frank
Top Key Phrases (auto-generated):
seeded raisin, dried fruit, fruit agency, california dried, consolidated seeded, southern district, california northern, letters patent, raisin seeding, hare david, william swall, nicholson george, bachant daniel, rudy albert, frank giannini
Document Status: UGLY