v0609-407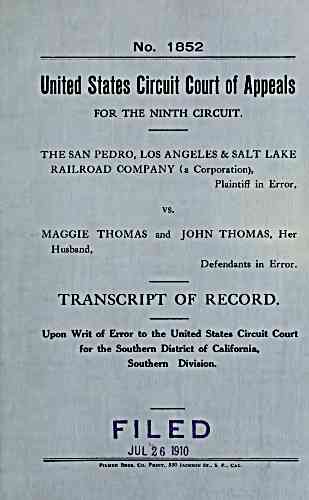 No. 1852
United States Circuit Court of Appeals
FOR THE NINTH CIRCUIT.
THE SAN PEDRO, LOS ANGELES & SALT LAKE
RAILROAD COMPANY (a Corporation),
Plaintiff in Error,
vs.
MAGGIE THOMAS and JOHN THOMAS, Her
Husband,
Defendants in Error.
TRANSCRIPT OF RECORD.
Upon Writ of Error to the United States Circuit Court
for the Southern District of California,
Southern Division.
FILED
JUL '26 1910
FiLMBR Bros. Co. Print, 330 Jackson St., S. F., Cal.
---
archive.org Volume Name: govuscourtsca9briefs0609
Volume: http://archive.org/stream/govuscourtsca9briefs0609
Document Link: http://archive.org/stream/govuscourtsca9briefs0609#page/n406/mode/1up
Top Keywords (auto-generated):
thomas, john, los, railroad, angeles, train, san, maggie, pedro, son, city, california, southern, car, passenger
Top Key Phrases (auto-generated):
los angeles, john thomas, san pedro, maggie thomas, salt lake, pedro los, lake railroad, angeles salt, john thomas., southern district, california southern, passenger cars, son john, drew pruitt, defend ant
Document Status: UGLY