v0612-445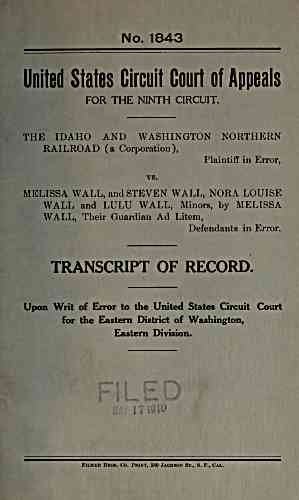 No. 1843
United States Circuit Court of Appeals
FOR THE NINTH CIRCUIT.
THE IDAHO AND WASHINGTON NORTHERN
RAILROAD (a Corporation),
Plaintiff in Error,
vs.
MELISSA WALL, and STEVEN WALL, NORA LOUISE
WALL and LULU WALL, Minors, by MELISSA
WALL, Their Guardian Ad Litem,
Defendants in Error.
TRANSCRIPT OF RECORD.
Upon Writ of Error to the United States Circuit Court
for the Eastern District of Washington,
Eastern Division.
FiLMER Bros. Co. Print, 330 Jackson St., S. F., Cal.
---
archive.org Volume Name: govuscourtsca9briefs0612
Volume: http://archive.org/stream/govuscourtsca9briefs0612
Document Link: http://archive.org/stream/govuscourtsca9briefs0612#page/n444/mode/1up
Top Keywords (auto-generated):
log, wall, logs, washington, tongs, idaho, melissa, car, northern, end, miller, ground, scaling, scale, loading
Top Key Phrases (auto-generated):
melissa wall, washington northern, idaho washington, james wall, eastern district, guardian ad, exception allowed., ad litem, panhandle lumber, small log, scaling logs, lulu wall, northern railroad, washington eastern, wall nora
Document Status: UGLY