v0618-529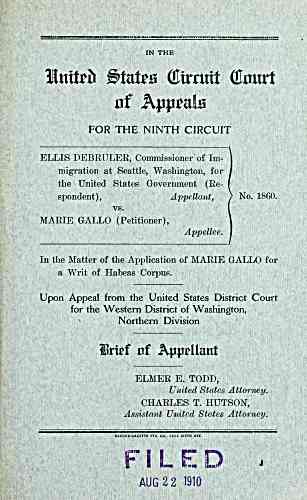 IN THE
MnxUh ^UUs Ctrmtt OInurt
af Appmh
FOR THE NINTH CIRCUIT
ELLIS DEBBULER, Comimssioner of Im-
migration at Seattle, Washington, for
the United States Government (Re-
spondent), AppeMant, } No. 1860.
vs.
MARIE aALLO (Petitioner),
Appellee.
In the Matter of the Application of MARIE GALLO for
a Writ of Habeas Corpus.
Upon Appeal from the United States District Court
for the Western District of Washington,
Northern Division
Irirf 0f Appellant
ELMER E. TODD,
United States Attorney.
CHARLES T. HUTSON,
Assistant United States Attorney.
RECORD-GAZETTE PTG. CO.. 1912 SIXTH AVE.
FILE
AUG 2 2 1910
---
archive.org Volume Name: govuscourtsca9briefs0618
Volume: http://archive.org/stream/govuscourtsca9briefs0618
Document Link: http://archive.org/stream/govuscourtsca9briefs0618#page/n528/mode/1up
Top Keywords (auto-generated):
marie, 1909, gallo, washington, labor, district, commerce, tony, fisher, deported, department, warrant, september, married, inspector
Top Key Phrases (auto-generated):
marie gallo, seattle washington, inspector fisher, tony galli, acting secretary, western district, september 24th, im migration, country whence, ap pellee, york city, yoiv 208, washington northern, tun 168, tang tun
Document Status: UGLY