v0618-565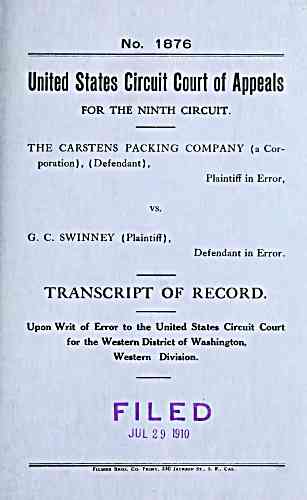 No. 1876
United States Circuit Court of Appeals
FOR THE NINTH CIRCUIT.
THE CARSTENS PACKING COMPANY (a Cor-
poration), (Defendant),
Plaintiff in Error,
vs.
SWINNEY (Plaintiff),
Defendant in Error.
TRANSCRIPT OF RECORD.
Upon Writ of Error to the United States Circuit Court
for the Western District of Washington,
Western Division.
FILED
JUL 2 9 1910
FiLMER Bros. Co. Print, 330 Jackson St., S. P.. Cal.
---
archive.org Volume Name: govuscourtsca9briefs0618
Volume: http://archive.org/stream/govuscourtsca9briefs0618
Document Link: http://archive.org/stream/govuscourtsca9briefs0618#page/n564/mode/1up
Top Keywords (auto-generated):
tank, work, plank, swinney, platform, packing, carstens, vat, teats, glue, vats, right, oiling, oil, hurt
Top Key Phrases (auto-generated):
carstens packing, western district, reeves ayres, indicating ., bridges deputy., contributory negligence, tank room, plat form, hot water, glue stock, fourth floor, george donworth, ellis fletcher, carsfens packing, walking along
Document Status: UGLY