v0621-399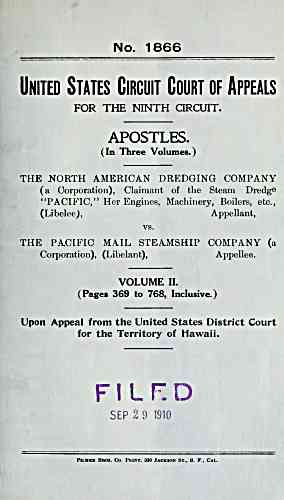 No. 1866
United States Circuit Court of Appeals
FOR THE NINTH CIRCUIT.
APOSTLES.
(In Three Volumes.)
THE NORTH AMERICAN DREDGING COMPANY
(a Corporation), Claimant of the Steam Dredge
"PACIFIC," Her Engines, Machinery, Boilers, etc.,
(Libelee), Appellant,
vs.
THE PACIFIC MAIL STEAMSHIP COMPANY (a
Corporation), (Libelant), Appellee.
VOLUME IL
(Pages 369 to 768, Inclusive.)
Upon Appeal from the United States District Court
for the Territory of Hawaii.
FILED
SEP 2 9 1910
PiLMER Bbos. Co. Print, 330 Jackson St.. S. F., Cal.
---
archive.org Volume Name: govuscourtsca9briefs0621
Volume: http://archive.org/stream/govuscourtsca9briefs0621
Document Link: http://archive.org/stream/govuscourtsca9briefs0621#page/n398/mode/1up
Top Keywords (auto-generated):
buoy, xq, wire, mcclanahan, deposition, pacific, frank, dredging, steamship, mail, american, dredger, siberia, chain, harbor
Top Key Phrases (auto-generated):
pacific mail, mail steamship, american dredging, harry spencer., san francisco, captain lorenzen., wire cables, alexander lyle., joseph scott, november 1905, captain miller., siberia fouled, eric edmund, edmund mattson., propeller tube
Document Status: UGLY