v0637x-55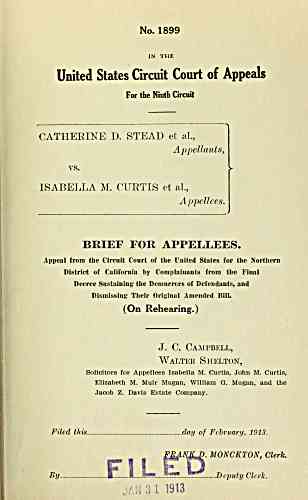 No. 1899
IN THE
United States Circuit Court of Appeals
For the Ninth Circuit
CATHERINE D. STEAD et al.,
Appellants,
vs.
ISABELLA M. CURTIS et al.,
Appellees.
BRIEF FOR APPELLEES.
Appeal from the Circuit Court of the United States for the Northern
District of California by Complainants from the Final
Decree Sustaining" the Demurrers of Defendants, and
Dismissing Their Original Amended Bill.
(On Rehearing.)
Campbell,
Walter Shelton,
Solicitors for Appellees Isabella M. Curtis, John M. Curtis,
Elizabeth M. Muir Mugan, William G. Mugan, and the
Jacob Z. Davis Estate Company.
Filed this day of February, 1913.
FJ&N&J?' MONCKTON, Clerk.
FI L F D
By 1 1 im. " z.. Deputy Clerk.
3 1 1913
---
archive.org Volume Name: govuscourtsca9brief0637x
Volume: http://archive.org/stream/govuscourtsca9brief0637x
Document Link: http://archive.org/stream/govuscourtsca9brief0637x#page/n54/mode/1up
Top Keywords (auto-generated):
probate, jurisdiction, fraud, equity, bill, cal, estate, proceeding, courts, relief, section, statute, pro, heirs, decedent
Top Key Phrases (auto-generated):
probate proceeding, civil procedure, pro bate, probate jurisdiction., extrinsic fraud, appel lants, ap pellants, section 1303, intrinsic fraud, pro ceeding, probate jurisdiction, equity jurisdiction, res judicata, district courts, 151 cal.,
Document Status: UGLY