v0639-563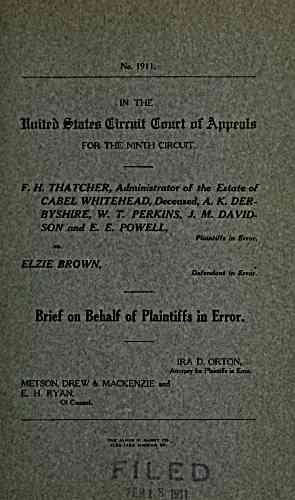 No. 191
IN THE
Mttttri gtatB Qlxrrmt (Eourt of Appala
FOR THE NINTH CIRCUIT.
THATCHER, Administrator of the Estate of
CABEL WHITEHEAD, Deceased, A. K. DER-
BYSHIRE, W. T. PERKINS, J. M. DAVID-
SON and E. E. POWELL,
Plaintiff* in Error,
ELZIE BROWN,
Defendant in Error.
Brief on Behalf of Plaintiffs in Error.
IRA D. ORTON.
Attorney for Plaiatifft in Error.
METSON. DREW & MACKENZIE and
RYAN,
Of Counsel.
---
archive.org Volume Name: govuscourtsca9briefs0639
Volume: http://archive.org/stream/govuscourtsca9briefs0639
Document Link: http://archive.org/stream/govuscourtsca9briefs0639#page/n562/mode/1up
Top Keywords (auto-generated):
work, alaska, january, mining, labor, location, ground, december, 1909, stansborough, 1908, failure, claims, annual, section
Top Key Phrases (auto-generated):
assessment work, section 2324, revised statutes, resume work, resumed work, mining claims, december 31, annual work, valid location, january 1909, annual labor, 31 1908, january ist, improve ments, december 31st
Document Status: UGLY