v0639-605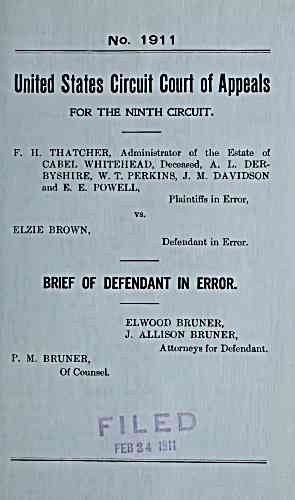 No. 1911
United States Circuit Court of Appeals
FOR THE NINTH QRCUIT.
THATCHER, Administrator of the Estate of
CABEL WHITEHEAD, Deceased, A. L. DER-
BYSHIRE, W. T. PERKINS, J. M. DAVIDSON
and E. E. POWELL,
Plaintiffs in Error,
vs.
ELZIE BROWN,
Defendant in Error.
BRIEF OF DEFENDANT IN ERROR.
ELWOOD BRUNER,
ALLISON BRUNER,
Attorneys for Defendant.
BRUNER,
Of Counsel.
rrp ^A 111
---
archive.org Volume Name: govuscourtsca9briefs0639
Volume: http://archive.org/stream/govuscourtsca9briefs0639
Document Link: http://archive.org/stream/govuscourtsca9briefs0639#page/n604/mode/1up
Top Keywords (auto-generated):
mining, work, location, improvements, alaska, labor, district, january, 1909, lands, open, mineral, 1908, placer, pinto
Top Key Phrases (auto-generated):
mining claims, march 2d, january 1909, elzie brown, 2d 1907, placer mining, mineral lands, mineral land, tender placer, september 1910, open unoccupied, nome mining, district district, become forfeited, whitehead deceased
Document Status: UGLY