v0642-561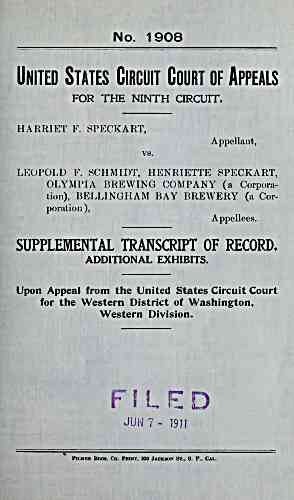 No. 1908
United States Circuit Court of Appeals
FOR THE NINTH CIRCUIT.
HARRIET F. SPECKART,
Appellant,
vs.
LEOPOLD F. SCHMIDT, HENRIETTE SPECKART,
OLYMPIA BREWING COMPANY (a Corpora-
tion), BELLINGHAM BAY BREWERY (a Cor-
poration),
Appellees.
SUPPLEMENTAL TRANSCRIPT OF RECORD.
ADDITIONAL EXHIBITS.
Upon Appeal from the United States Circuit Court
for the Western District of Washington,
Western Division.
JUN 7 - 1911
PiLMER Bros. Co. Print, 330 Jackson St., S. F.. Cal.
---
archive.org Volume Name: govuscourtsca9briefs0642
Volume: http://archive.org/stream/govuscourtsca9briefs0642
Document Link: http://archive.org/stream/govuscourtsca9briefs0642#page/n560/mode/1up
Top Keywords (auto-generated):
leopold, speckart, mamma, uncle, hattie, nice, schmidt, paid, aunt, soon, san, letters, dear, harriet, week
Top Key Phrases (auto-generated):
uncle leopold, san diego, 1906 hattie, aunt katie, san francisco, hattie speckart, uncle august, olympia brewing, aunt johanna, wild flowers, virginia city, sunday morning, march 27, los angeles, henriette speckart
Document Status: UGLY