v0648-455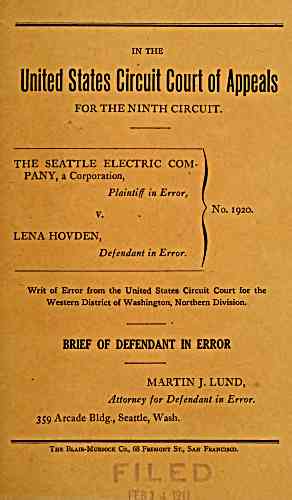 IN THE
United Slates Circuit Court ol Appeais
FOR THE NINTH CIRCUIT.
THE SEATTLE ELECTRIC COM-
PANY, a Corporation,
Plaintiff in Error,
) No. 1920.
LENA HOVDEN,
Defendant in Error.
Writ of Error from the United States Circuit Court for the
Western District of Washington, Northern Division.
BRIEF OF DEFENDANT IN ERROR
MARTIN J. LUND,
Attorney for Defendant in Error,
359 Arcade Bldg., Seattle, Wash.
The Blair-Murdock Co., 68 Fremont St., San Francisco.
---
archive.org Volume Name: govuscourtsca9briefs0648
Volume: http://archive.org/stream/govuscourtsca9briefs0648
Document Link: http://archive.org/stream/govuscourtsca9briefs0648#page/n454/mode/1up
Top Keywords (auto-generated):
car, street, negligence, speed, track, cross, crossing, cars, trans, contributory, distance, rate, miles, city, struck
Top Key Phrases (auto-generated):
contributory negligence, street railway, street car, bound car, syllabus reads, westlake boulevard, twelve miles, seattle electric, railway track, northbound car, negli gence, car approaching, public street, ordinary prudence, neg ligence
Document Status: UGLY