v0658-476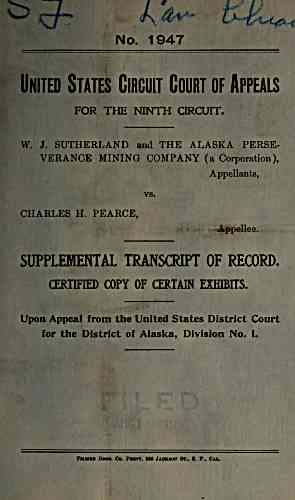 Cf "^ ^ ^^^'' ^^^i
No. 1947
United States Circuit Court of Appeals
FOR THE NINTH CIRCUIT.
SUTHERLAND and THE ALASKA PERSE-
VERANCE MINING COMPANY (a Corporation),
Appellants,
vs.
CHARLES H. PEARCE,
Appellee.
SUPPLEMENTAL TRANSCRIPT OF RECORD.
CERTIFIED COPY OF CERTAIN EXHIBITS-
Upon Appeal from the United States District Court
for the District of Alaska, Division No. I.
PiLMBR Bnofl. Co. Print, 330 Jaokion St.. S. F.. Cal.
---
archive.org Volume Name: govuscourtsca9briefs0658
Volume: http://archive.org/stream/govuscourtsca9briefs0658
Document Link: http://archive.org/stream/govuscourtsca9briefs0658#page/n475/mode/1up
Top Keywords (auto-generated):
sutherland, mining, alaska, pearce, charles, israel, perseverance, contract, york, district, george, july, seal, claims, right
Top Key Phrases (auto-generated):
alaska perseverance, perseverance mining, dexter horton, notary public, banking house, suther land, vice president, capital stock, july 1901, greek boys, boys mining, silver bow, mining district, juneau alaska, harris mining
Document Status: UGLY