v0662-455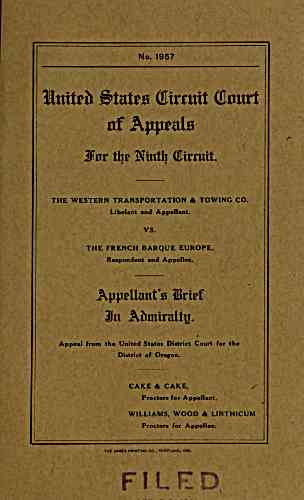 No. 1957
Imtb BUUb (Hxvmxt flinurt
3Tnr tiff Nintlj Oltrrutt.
THE WESTERN TRANSPORTATION & TOWING CO.
Libelant and Appellant.
VS.
THE FRENCH BARQUE EUROPE,
Respondent and Appellee.
Apppllant'fi 2Srtff
Sn AJimiralty.
Appeal from the United States District Court for the
District of Oregon.
CAKE & CAKE,
Proctors for Appellant,
WILLIAMS, WOOD & LINTHICUM
Proctors for Appellee.
THE 4AMES PRINTING CO., PORTLAND, ORE.
F I F D
---
archive.org Volume Name: govuscourtsca9briefs0662
Volume: http://archive.org/stream/govuscourtsca9briefs0662
Document Link: http://archive.org/stream/govuscourtsca9briefs0662#page/n454/mode/1up
Top Keywords (auto-generated):
lights, europe, light, anchor, collision, vessel, deck, vessels, ship, comings, watch, fault, anchored, river, pilot
Top Key Phrases (auto-generated):
anchor watch, annie comings, anchor lights, jib boom, anchored vessel, forecastle deck, forward light, barque europe, anchor chain, willamette river, riding lights, main deck, eu rope, ward fr., usual track
Document Status: UGLY