v0673-595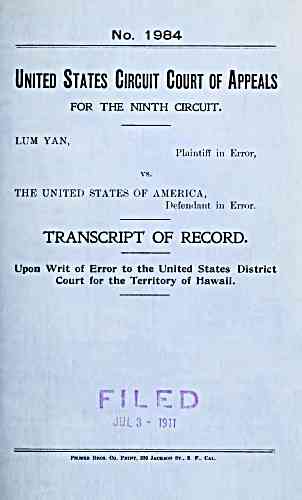 No. 1984
United States Circuit Court of Appeals
FOR THE NINTH CIRCUIT.
LUM YAN,
Plaintiff in Error,
vs.
THE UNITED STATES OF AMERICA,
Defendant in Error.
TRANSCRIPT OF RECORD,
Upon Writ of Error to the United States District
Court for the Territory of Hawaii.
FILE
JUL 3- 1911
PiLHBR Bros. Oo. Print. 330 Jaokson St.. S. F.. Cal.
---
archive.org Volume Name: govuscourtsca9briefs0673
Volume: http://archive.org/stream/govuscourtsca9briefs0673
Document Link: http://archive.org/stream/govuscourtsca9briefs0673#page/n594/mode/1up
Top Keywords (auto-generated):
1910, lum, yan, district, minutes, 1911, thayer, rawlins, october, breckons, continuing, hawaii, letters, territory, juror
Top Key Phrases (auto-generated):
lum yan, assist ant, ant district, minutes october, lu jo, minutes november, 31 1910, minutes april, lin tsan, voire dire, tsan yuan, february 27, 27 1911., minutes january, defend ant
Document Status: UGLY