v0675-437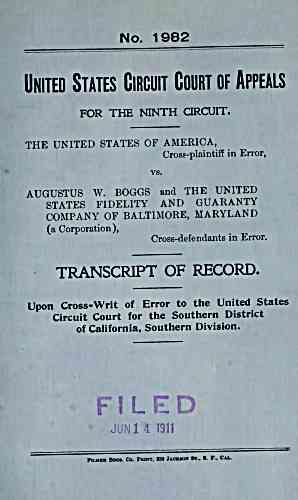 No. 1982
United States Circuit Court of Appeals
FOR THE NINTH CIRCUIT.
THE UNITED STATES OF AMERICA,
Cross-plaintiff in Error,
vs.
AUGUSTUS W. BOGGS and THE UNITED
STATES FIDELITY AND GUARANTY
COMPANY OF BALTIMORE, MARYLAND
(a Corporation),
Cross-defendants in Error.
TRANSCRIPT OF RECORD.
Upon Cross=Writ of Error to the United States
Circuit Court for the Southern District
of California, Southern Division.
FILE
JUN14 1911
PiLHiR Bros. Co. Print. 330 Jackion 8t.. S. T.. Cai,.
---
archive.org Volume Name: govuscourtsca9briefs0675
Volume: http://archive.org/stream/govuscourtsca9briefs0675
Document Link: http://archive.org/stream/govuscourtsca9briefs0675#page/n436/mode/1up
Top Keywords (auto-generated):
cross, boggs, augustus, southern, california, district, 1911, contract, guaranty, fidelity, baltimore, maryland, van, dyke, corporation
Top Key Phrases (auto-generated):
southern district, van dyke, baltimore maryland, cir cuit, california southern, los angeles, civil ., 1399 civil, williams deputy, ray horton, cali fornia, olin wellborn, contract price, california sou., bowen allen
Document Status: UGLY