v0689x-641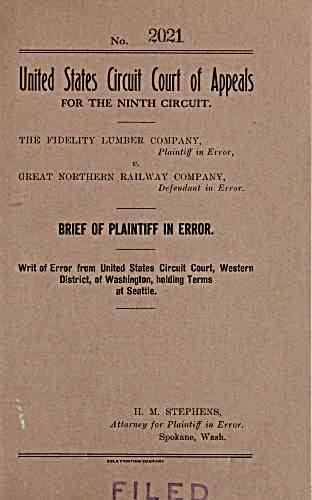 No.
2021
ited ws Circuit Court ol Appeals
FOR THE NINTH CIRCUIT.
THE FIDELITY LUMBER COMPANY,
Plaintiff in Error,
GREAT NORTHERN RAILWAY COMPANY,
Defendant in Error.
BRIEF OF PLAINTIFF IN ERROR.
Writ of Error from United States Circuit Court, Western
District, of Washington, holding Terms
at Seattle.
STEPHENS,
Attorney for Plaintiff in Error.
Spokane, Wash.
COLI PINTINa COMPANY
J K --'-.
---
archive.org Volume Name: govuscourtsca9briefs0689x
Volume: http://archive.org/stream/govuscourtsca9briefs0689x
Document Link: http://archive.org/stream/govuscourtsca9briefs0689x#page/n640/mode/1up
Top Keywords (auto-generated):
rates, points, commission, rate, 1907, coast, spokane, cents, reparation, district, pacific, october, northern, lumber, 31
Top Key Phrases (auto-generated):
october 31, pacific coast, spokane district, fidelity lumber, 31 1907, interstate commerce, northern railway, commerce commission, coast rates, forest products, rate fixed, coast rate, kansas city, sioux city, lumber shingles
Document Status: UGLY