v0698-7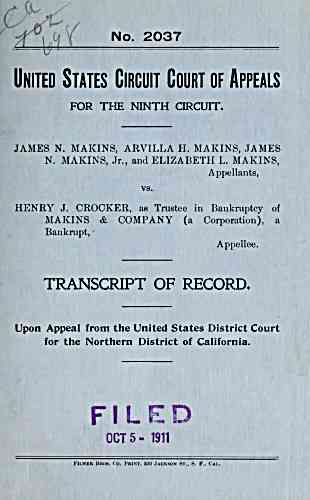 No. 2037
United States Circuit Court of Appeals
FOR THE NINTH CIRCUIT.
JAMES N. MAKINS, ARVILLA H. MAKINS, JAMES
MAKINS, Jr., and ELIZABETH L. MAKINS,
Appellants,
vs.
HENRY J. CROCKER, as Trustee in Bankruptcy of
MAKINS & COMPANY (a Corporation), a
Bankrupt,
Appellee.
TRANSCRIPT OF RECORD.
Upon Appeal from the United States District Court
for the Northern District of California.
FILED
OCT 5 - 1911
FiLMER Bros. Co. Pri.st. 330 Jackson St.. S. F.. Cal.
---
archive.org Volume Name: govuscourtsca9briefs0698
Volume: http://archive.org/stream/govuscourtsca9briefs0698
Document Link: http://archive.org/stream/govuscourtsca9briefs0698#page/n6/mode/1up
Top Keywords (auto-generated):
makins, james, corporation, stamps, paid, money, joseph, crocker, stock, bank, arvilla, 1906, elizabeth, property, brother
Top Key Phrases (auto-generated):
makins james, makins joseph, makins arvilla, san francisco, corporation makins, makins sr., northern district, makins ct, market street, cor poration, right angles, stoltz collection, safe deposit, central bank, capital stock
Document Status: UGLY