v0706-7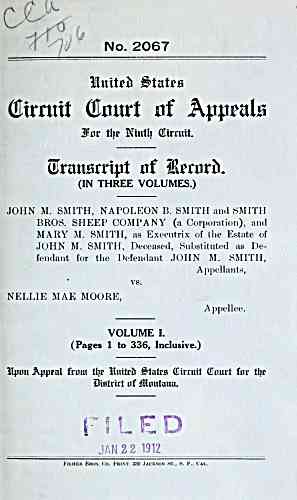 IMo. 2067
Oltrrmt (Eamt at KppmlB
3For t}t Ntntli (Eirrmt
(IN THREE VOLUMES.)
JOHN M. SMITH, NAPOLEON B. SMITH and SMITH
BROS. SHEEP COMPANY (a Corporation), and
MARY M. SMITH, as Executrix of the Estate of
JOHN M. SMITH, Deceased, Substituted as De-
fendant for the Defendant JOHN M. SMITH,
Appellants,
vs.
NELLIE MAE MOORE,
Appellee.
VOLUME L
(Pages 1 to 336, Inclusive.)
%pan Appeal fxam tlf Ittttfi BMsb (Etrrutt dourt fox tl)f
Itatnrt nf Mnntatta.
' f f
JAN 2 2 1912
FiLMER Bros. Co. Print. 330 Jackson St., S. K.. Cai,.
---
archive.org Volume Name: govuscourtsca9briefs0706
Volume: http://archive.org/stream/govuscourtsca9briefs0706
Document Link: http://archive.org/stream/govuscourtsca9briefs0706#page/n6/mode/1up
Top Keywords (auto-generated):
smith, john, 23, credit, books, nellie, ricker, interest, moore, mae, complainant, yrs, items, flatt, paid
Top Key Phrases (auto-generated):
nellie mae, mae moore., smith brothers, brothers sheep, smith bros., ac count, 23 1911, smith deceased, printed transcript, mae moore, white sulphur, sulphur springs, mary smith, 23 da., en tries
Document Status: UGLY