v0754-657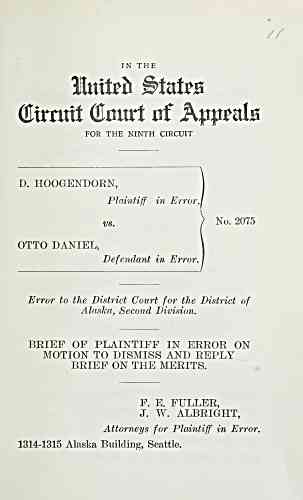 //
IN THE
Oltrmtt OInurt nf Apitals
FOR THE NINTH CIRCUIT
IIOOGENDOEN,
Plaintiff in Error A
vs. / No. 2075
OTTO DANIEL,
Defendant in Error.
Error to the District Court for the District of
Alaska, Second Division.
BRIEF OF PLAINTIFF IN ERROR ON
MOTION TO DISMISS AND REPLY
BRIEF ON THE MERITS.
FULLER,

ALBRIOHT,
Attorneys for Plaintiff in Error.
1314-1315 Alaska Building, Seattle.
---
archive.org Volume Name: govuscourtsca9briefs0754
Volume: http://archive.org/stream/govuscourtsca9briefs0754
Document Link: http://archive.org/stream/govuscourtsca9briefs0754#page/n656/mode/1up
Top Keywords (auto-generated):
damages, paid, daniel, possession, payment, money, kept, instruction, right, employed, boiler, below, property, ed, assigned
Top Key Phrases (auto-generated):
specific performance, undeveloped placer, secure employment, profitably employed, pre vented, otto daniel, money paid, marine engineer, marine engi, instruc tions, instruction assigned, influ enced, 2075 otto, 1907 1908, wrongful retention
Document Status: UGLY