v0760-151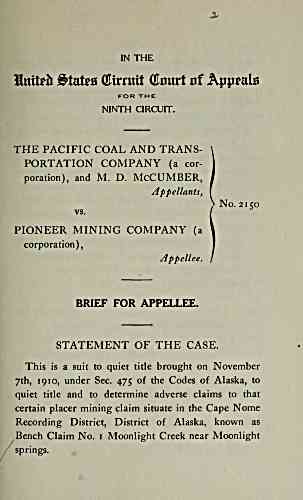 IN THE
ISinitth BUUb Qltrcmt OInurt ttf Appeals
FO R XH E
NINTH CIRCUIT.
THE PACIFIC COAL AND TRANS-
PORTATION COMPANY (a cor-
poration), and M. D. McCUMBER,
Appellants,
vs.
No. 2150
PIONEER MINING COMPANY (a
corporation),
Appellee.
BRIEF FOR APPELLEE.
STATEMENT OF THE CASE.
This is a suit to quiet title brought on November
7th, 1910, under Sec. 475 of the Codes of Alaska, to
quiet title and to determine adverse claims to that
certain placer mining claim situate in the Cape Nome
Recording District, District of Alaska, known as
Bench Claim No. i Moonlight Creek near Moonlight
springs.
---
archive.org Volume Name: govuscourtsca9briefs0760
Volume: http://archive.org/stream/govuscourtsca9briefs0760
Document Link: http://archive.org/stream/govuscourtsca9briefs0760#page/n150/mode/1up
Top Keywords (auto-generated):
moonlight, location, grant, possession, bench, title, statute, corporation, ground, alaska, 1899, district, right, stakes, adverse
Top Key Phrases (auto-generated):
pacific coal, adverse possession, anvil mountain, andrew jensen, bench moonlight, moonlight springs, january 1899, moon light, foreign corporation, cor poration, moonlight creek, placer mining, grant location, exclusive possession, willow stakes
Document Status: UGLY