v0762-381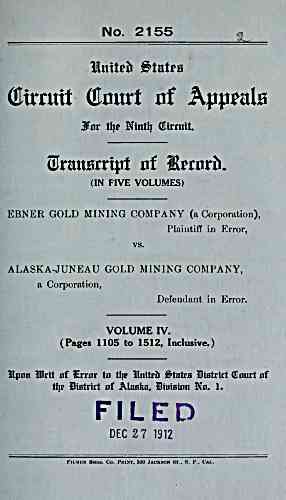 No. 2155 g^
Ctrrmt (Eourf af &ppmi&
$vx % Ntntlj (Sirnttt
(IN FIVE VOLUMES)
EBNER GOLD MINING COMPANY (a Corporation),
Plaintiff in Error,
vs.
ALASKA-JUNEAU GOLD MINING COMPANY,
a Corporation,
Defendant in Error.
VOLUME IV.
(Pages 1105 to 1512, Inclusive.)
Ijum Wvt of Irror to tip? Imfro gtat*B iiatrtrt (ilourt of
% Statnrt of Alaska, limmott -No. I*
FILED
DEC 2 7 1912
Fii.mer Bros. Co. Print, 330 Jackson St., S. F., Cai..
---
archive.org Volume Name: govuscourtsca9briefs0762
Volume: http://archive.org/stream/govuscourtsca9briefs0762
Document Link: http://archive.org/stream/govuscourtsca9briefs0762#page/n380/mode/1up
Top Keywords (auto-generated):
mining, gold, creek, alaska, lotta, corner, water, ebner, juneau, ground, patent, property, survey, right, stake
Top Key Phrases (auto-generated):
gold mining, alaska juneau, ebner gold, juneau gold, gold creek, field notes, borean pit, snowslide gulch, water right, open cut, lotta lode, water rights, patent notes, stamp mill, mining district
Document Status: UGLY