v0762-7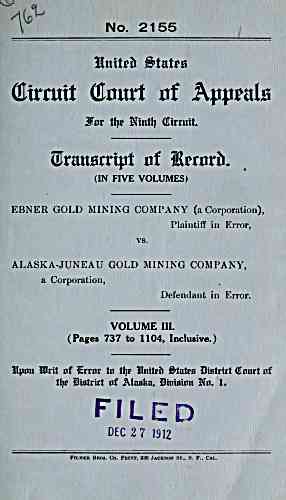 No. 2155
(tttrrmt Gkurt of Appeals
3m % Nutty ffiirnttt
rattsrrtpt of Sterork
(IN FIVE VOLUMES)
EBNER GOLD MINING COMPANY (a Corporation),
Plaintiff in Error,
vs.
ALASKA-JUNEAU GOLD MINING COMPANY,
a Corporation,
Defendant in Error.
VOLUME III.
(Pages 737 to 1104, Inclusive.)
Ipott Writ of Error to tljr Itttiro giatra listrtrt (Court of
ttj? iifltrtrt of Alaska, Imtaton fa. 1,
FILE
DEC 2 7 1912
Filmer Bros. Co. Print, 330 Jackson St.. S. F.. Cal.
---
archive.org Volume Name: govuscourtsca9briefs0762
Volume: http://archive.org/stream/govuscourtsca9briefs0762
Document Link: http://archive.org/stream/govuscourtsca9briefs0762#page/n6/mode/1up
Top Keywords (auto-generated):
gold, mining, alaska, juneau, creek, tunnel, work, rock, flume, ebner, ground, water, kinzie, pit, right
Top Key Phrases (auto-generated):
gold mining, alaska juneau, ebner gold, juneau gold, gold creek, borean pit, snowslide gulch, stamp mill, uneau gold, open cut, cape horn, flume grade, silver bow, water right, bow basin
Document Status: UGLY