v0768-97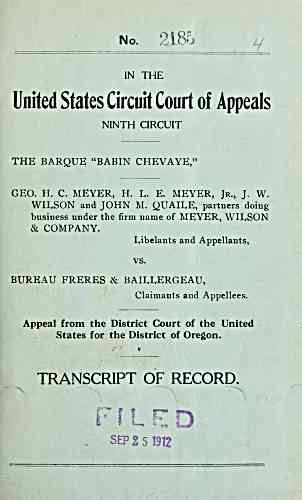 No. 2185 z/
IN THE
United States Circuit Court of Appeals
NINTH CIRCUIT
THE BARQUE "BABIN CHEVAYE,"
GEO. H. C. MEYER, H. L. E. MEYER, Jr., J. W.
WILSON and JOHN M. QUAILE, partners doing
business under the firm name of MEYER, WILSON
& COMPANY.
Libelants and Appellants,
VS.
BUREAU FRERES & BAILLERGEAU,
Claimants and Appellees.
Appeal from the District Court of the United
States for the District of Oregon.
TRANSCRIPT OF RECORD.
F I L ^ D
SEP 2 5 1912
---
archive.org Volume Name: govuscourtsca9briefs0768
Volume: http://archive.org/stream/govuscourtsca9briefs0768
Document Link: http://archive.org/stream/govuscourtsca9briefs0768#page/n96/mode/1up
Top Keywords (auto-generated):
deck, vessel, chevaye, ship, cargo, decks, meyer, barque, saith, cross, babin, water, weather, interrogatory, sea
Top Key Phrases (auto-generated):
babin chevaye, cross interrogatory, barque bahin, barque babin, bahin chevaye, poop deck, main deck, bureau freres, tween decks, meyer wilson, tuck sherman, harry tuck, chart room, bad weather, freres baillergeau
Document Status: UGLY