v0780-497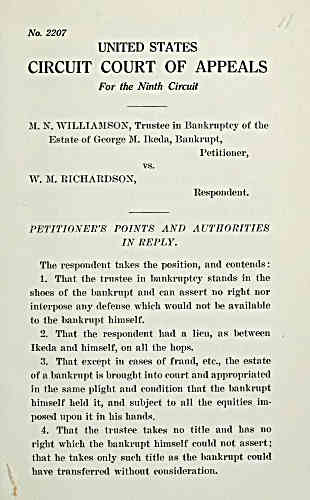 No. 2207
UNITED STATES
CIRCUIT COURT OF APPEALS
For the Ninth Circuit
WILLIAMSON, Trustee in Bankruptcy of tlie
Estate of George M. Ikeda, Bankrupt,
Petitioner,
vs.
KICHARDSON,
Respondent.
PETITIONER'S POINTS AND AUTHORITIES
IN REPLY.
The respondent takes the position, and contends :
That the trustee in bankruptcy stands in the
shoes of the bankrupt and can assert no right nor
interpose any defense which would not be available
to the bankrupt himself.
That the respondent had a lien, as between
Ikeda and himself, on all the hops.
That except in cases of fraud, etc., the estate
of a bankrupt is brought into court and appropriated
in the same plight and condition that the bankrupt
himself held it, and subject to all the equities im-
posed upon it in his hands.
That the trustee takes no title and has no
right which the bankrupt himself could not assert;
that he takes only such title as the bankrupt could
have transferred without consideration.
---
archive.org Volume Name: govuscourtsca9briefs0780
Volume: http://archive.org/stream/govuscourtsca9briefs0780
Document Link: http://archive.org/stream/govuscourtsca9briefs0780#page/n496/mode/1up
Top Keywords (auto-generated):
respondent, richardson, contract, title, bankrupt, delivery, trustee, hops, ikeda, creditors, bankruptcy, property, possession, purchase, price
Top Key Phrases (auto-generated):
purchase price., civil code, purchase price, money advanced, bank rupt, section 3440, respondent contends, property transferred, money paid, lumber manufactured, joint tenant, code section, circum stances, bank ruptcy, authori ties
Document Status: UGLY