v0803-541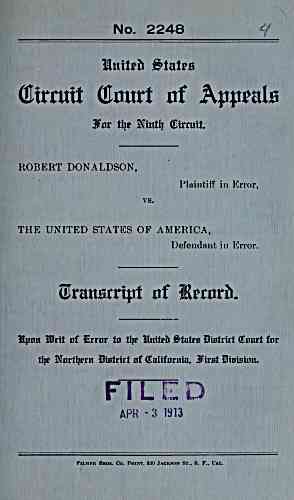 No. 2248
Oltrrmt (Court of Appeals
3For % Nttttli Oltmttt
ROBERT DONALDSON,
Plaintiff in rror,
vs.
THE UNITED STATES OF AMERICA,
Defendant in ICrror.
ranarnpt of Erorh.
Upon WvXt of iError to tlp ISimUh BtnUB iiatnrt (Eourt for
tlB Norttjf rtt itfitrtrt of (Haltfornia, 3xat itotsion*
FILE
APR -3 1913
FiLMEi: Bros. Co. Print, .130 Jackson St.. S. F.. Cal.
---
archive.org Volume Name: govuscourtsca9briefs0803
Volume: http://archive.org/stream/govuscourtsca9briefs0803
Document Link: http://archive.org/stream/govuscourtsca9briefs0803#page/n540/mode/1up
Top Keywords (auto-generated):
donaldson, robert, district, powers, opium, fiedler, barge, mcnab, lindsay, california, gallagher, conspiracy, david, northern, indictment
Top Key Phrases (auto-generated):
robert donaldson, northern district, grand jurors, san francisco, henry gallagher, robert donaldson., wong hugh, rights conferred, donald son, detriment injury, county jail, morris deputy, opium prepared, mani fest, committed mani
Document Status: UGLY