v0810-407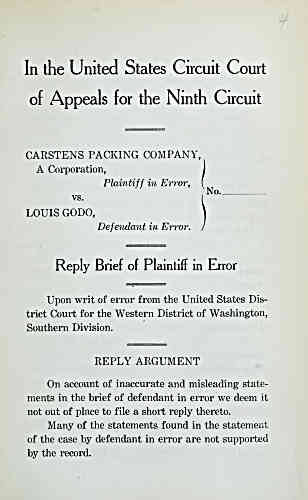 In the United States Circuit Court
of Appeals for the Ninth Circuit
CARSTENS PACKING COMPANY,
A Corporation, i
Plaintiff in Error, I
No..
vs.
LOUIS GODO,
Defendant in Error.
Reply Brief of Plaintiff in Error
Upon writ of error from the United States Dis-
trict Court for the Western District of Washington,
Southern Division.
REPLY ARGUMENT
On account of inaccurate and misleading state-
ments in the brief of defendant in error we deem it
not out of place to file a short reply thereto.
Many of the statements found in the statement
of the case by defendant in error are not supported
by the record.
---
archive.org Volume Name: govuscourtsca9briefs0810
Volume: http://archive.org/stream/govuscourtsca9briefs0810
Document Link: http://archive.org/stream/govuscourtsca9briefs0810#page/n406/mode/1up
Top Keywords (auto-generated):
godo, building, work, master, cable, space, weights, negligence, duty, broken, mud, counterweights, counterweight, change, wharf
Top Key Phrases (auto-generated):
un der, reasonably safe, pound weight, mud sill, mill wright, lead taps, hill sullivan, helper nels, counter weights, coun terweights, cable broke, bunker hill, 1700 pound, york life, wringer foundation.,
Document Status: UGLY