v0818-555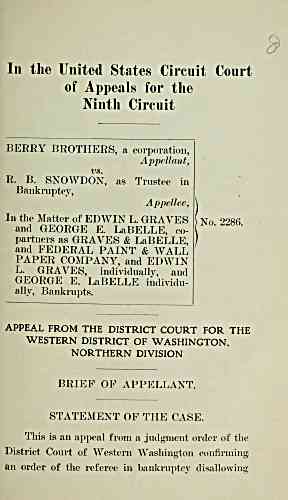 In the United States Circuit Court
of Appeals for the
Ninth Circuit
$
BERRY BROTHERS, a corporation,
Appellant,
vs.
SNOWDON, as Trustee in
Bankruptcy,
Appellee,
In the Matter of EDWIN L. GRAVES
and GEORGE E. LaBELLE, co-
partners as GRAVES & LaBELLE,
and FEDERAL PAINT & WALL
PAPER COMPANY, and EDWIN
GRAVES, individually, and
GEORGE E. LaBELLE individu-
ally, Bankrupts.
No. 2286.
APPEAL FROM THE DISTRICT COURT FOR THE
WESTERN DISTRICT OF WASHINGTON,
NORTHERN DIVISION
BRIEF OF APPELLANT.
STATEMENT OF THE CASE.
This is an appeal from a judgment order of the
District Court of Western Washington confirming
an order of the referee in bankruptcy disallowing
---
archive.org Volume Name: govuscourtsca9briefs0818
Volume: http://archive.org/stream/govuscourtsca9briefs0818
Document Link: http://archive.org/stream/govuscourtsca9briefs0818#page/n554/mode/1up
Top Keywords (auto-generated):
goods, bankrupts, warehouse, bankrupt, contract, trustee, purchase, stored, creditors, conditional, bailment, 1912, trans, petitioner, bank
Top Key Phrases (auto-generated):
bankrupts warehouse, bank rupts, broth ers, berry broth, ware house, berry brothers, 8th cir., subsequent creditors, stored goods, quite similar, piece goods, penny anderson, march 1912, goods stored, goods retaken
Document Status: UGLY