v0818-7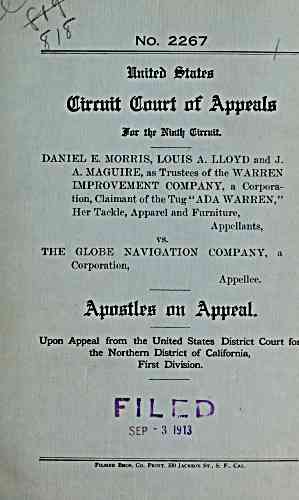 /
s
i
V
NO. 2267
Htttfrfc States
(fttrottt (ftoitrt ttf AppmlB
3far tip* Nitttlf QHrrmt
DANIEL E. -MORRIS, LOUIS A. LLOYD and J.
MAGUIRE, as Trustees of the WARREN
IMPROVEMENT COMPANY, a Corpora-
tion, Claimant of the Tug "ADA WARREN,"
Her Tackle, Apparel and Furniture,
Appellants,
vs.
THE GLOBE NAVIGATION COMPANY, a
Corporation,
Appellee.
Apatite* fltt ApprcL
Upon Appeal from the United States District Court foi
the Northern District of California,
First Division.
F I L C D
SEP " 3 1913
Filmer Bros. Co. Print. 330 Jackson St.. S. F.. Cal.
---
archive.org Volume Name: govuscourtsca9briefs0818
Volume: http://archive.org/stream/govuscourtsca9briefs0818
Document Link: http://archive.org/stream/govuscourtsca9briefs0818#page/n6/mode/1up
Top Keywords (auto-generated):
globe, warren, navigation, meteor, tug, vessel, ada, district, collision, morris, san, daniel, port, repairs, denman
Top Key Phrases (auto-generated):
globe navigation, ada warren, tug ada, san francisco, northern district, warren improvement, steamship meteor, net earnings, standard boiler, green light, san pablo, tackle apparel, carquinez straits, san francisco., port costa
Document Status: UGLY