v0824-229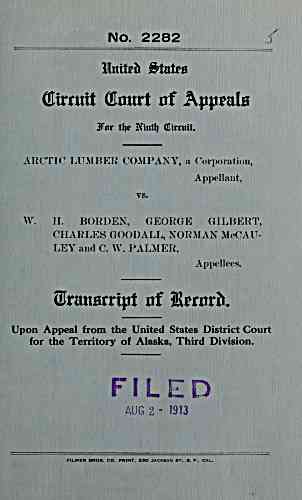 No. 2282
Qltrrmt Qlourt ttf Kpptnln
ar lljp Nltttlj trfutt.
ARCTIC IJTMBER COMPAKY, n ()ip()rati()n,
Appellant,
vs.
BORDEN, GEORGE GILBERT,
CHARLES GOODALL, NORALVN McCAll-
LEY and C. W. PALMER,
Appellees.
SIrattampt of Srrnrb.
Upon Appeal from the United States District Court
for the Territory of Alaska, Third Division.
FILED
AUG 2 " 1913
FILMER BROS. CO. PRINT. 330 JACKSON St.. S. F.. Cal.
---
archive.org Volume Name: govuscourtsca9briefs0824
Volume: http://archive.org/stream/govuscourtsca9briefs0824
Document Link: http://archive.org/stream/govuscourtsca9briefs0824#page/n228/mode/1up
Top Keywords (auto-generated):
building, lumber, borden, arctic, 1910, mccauley, palmer, alaska, foundation, cordova, march, april, lease, february, street
Top Key Phrases (auto-generated):
arctic lumber, cordova alaska, norman mccauley, steam heating, macaulay palmer, 1910 arctic, heating plant, charles goodell., charles goodall, february 1910, delivery receipt, lum ber, mccauley palmer, evi dence, april 1910,
Document Status: UGLY